LIVE ›
1-2 p.m.
This Week in High School Sports
NEXT ›
2:05 p.m.
SportsCenter Saturday
Updated: July 15th, 2014 11:27pm
Get the 1500 ESPN SportsWire delivered to your inbox daily, and keep up with all the news in Twin Cities Sports
.481: Derek Jeter's career All-Star Game batting average after going 2-for-2 with a double and a bloop single on Tuesday night. That batting average ranks fifth all-time among players with at least 10 at-bats. Jeter is also the oldest player to ever record multiple hits in an All-Star Game.
2 minutes, 26 seconds: The length of the standing ovation at Target Field for Jeter when he was taken out of the game in the top of the fourth inning. Jeter took his post at shortstop for between-inning grounders, and manager John Farrell sent Alexei Ramirez out to replace him so Jeter could experience a fitting ovation. He got one. Playing over the loudspeakers as he walked off: Frank Sinatra's "New York, New York."


None: The amount of damage allowed by first-time All-Star Alfredo Simon, who was converted to a full-time starter by the Reds for the first time in his career. Simon came in the third inning to face four of the greatest hitters of all-time -- and that's not hyperbole. After Jeter blooped a single to right, Simon got Mike Trout to fly out to the warning track in left, he struck out Robinson Cano, and he induced a lineout off the bat of Miguel Cabrera. Hey, a little luck never hurts.
0: The number of Venezuelan-born pitchers who had started All-Star Games before Tuesday night when Felix Hernandez took the mound. King Felix struck out two in his only inning.
41,048: The attendance on Tuesday.
31: The number of first-time All-Stars - the fourth-most in Midsummer Classic history.
0: The number of home runs Yasiel Puig hit at Target Field this week - including Monday night's home run derby. Puig also struck out three times on Tuesday night. Woof.
21: Pitchers used in the All-Star Game.

1998: The first time Reds catcher Todd Frazier and Jeter stood next to each other on a baseball diamond. They reunited again this week.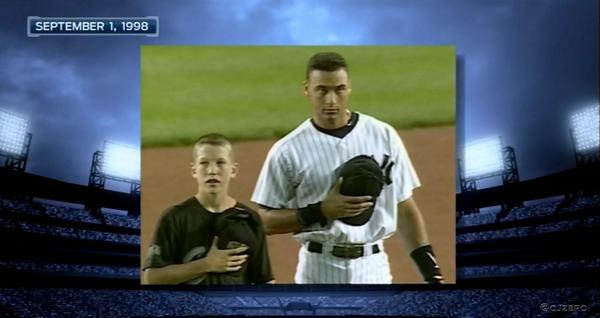 Photo courtesy of @CJZero

15: Pitches thrown by Pat Neshek, who wound up being charged with two earned runs in just 1/3 of an inning. Those runs turned out to be all the cushion the American League needed. But he received two nice ovations from the crowd - one pre-game and another during his warm-up throws.
100: MPH on Aroldis Chapman's first pitch, drawing a collective "ooooh" from the crowd. He hit 101 twice in subsequent pitches.
3: The number of pitchers who have earned an All-Star save in their own ballparks. Glen Perkins joined Mickey Lolich (1971) and Kaz Sasaki (2001).

1: The number of national media members who gushed about Minneapolis this week (OK, there are probably more, but here's one):
Oh, so the real star of All-Star weekend had to be Minneapolis. What a great town. I was sorry to leave so soon.

— keithlaw (@keithlaw) July 16, 2014



10908