LIVE ›
1-3 a.m.
Mike Tirico's Weekend Blitz
NEXT ›
3:05 a.m.
The Mort Report Replay
4:05 a.m.
Mike Tirico's Weekend Blitz College
6:05 a.m.
The Sporting Life
7:05 a.m.
Minnesota Home Talk
8:05 a.m.
Cover Your Assets
Updated: April 19th, 2014 5:37pm
Get the 1500 ESPN SportsWire delivered to your inbox daily, and keep up with all the news in Twin Cities Sports
by Derek Wetmore
1500ESPN.com

The Twins collectively gave away Saturday's game in the fourth inning, when a series of misplays, errors and bad luck befell starter Kevin Correia and his fielders.
Here are 5 thoughts from Saturday's game.
Feel free to ask any questions or make any observations in the comments. If you have a unique baseball observation during a game, feel free to share it with me on Twitter (@DerekWetmore).
--
1. Kevin Correia experienced a rather frustrating fourth inning. Frustrating in part because the Royals scored 5 runs and in part because there were so many mistakes and some bad luck behind him.
Chris Colabello misplayed a line drive/fly ball from Billy Butler that should have been caught and instead landed for a double. Later, on an 0-2 pitch, Correia hit the No. 9 batter, Alcides Escobar. That's on Correia, but it's a frustrating spot for a pitcher. The TV broadcast showed Correia yelling after the pitch caught Escobar, and one would guess he was shouting in disgust with himself.
The next batter, Nori Aoki, hit a ground ball to Trevor Plouffe, who apparently never saw it. It was a ball Plouffe should have fielded and he side-stepped it, allowing it to skip into left field. It seems plausible that he lost sight of it against whatever backdrop he was looking at.
Later in the inning, Aoki and Omar Infante attempted a double steal with lefty Eric Hosmer at the plate. Without a right-handed batter in the box to obstruct his vision or throwing path, it appeared Twins catcher Josmil Pinto had a great shot to nab Aoki at third, but he threw the ball into left field, allowing Aoki to score.
That's a frustrating series of events in one inning for a pitcher. It cost the Twins the game.
--
2. Let's revisit the Chris Colabello discussion from Friday's 5 thoughts.
Sharp commenter Joe Braga brought to my attention some flaws in the logic to Colabello's adjusted mechanics at the plate. I wrote based off a demonstration on the Fox Sports North telecast, and used insight I've gathered over the years. It appears now that some of the information was either incorrect or misleading.
Here's what I had said, followed by Joe's responses:
"Second, [Colabello] no longer loops his hands in a big circle during the loading phase of his swing. That element, combined with the leg kick, made his swing very long, even his he threw his hands in a direct bath to the plane of the ball. That makes it harder to time pitches, but can provide extra power when a batter makes contact. It seems he's traded some of that power generation for an ability to better time pitches."
From a pure physics perspective this information is incorrect. The load and the leg kick of a swing don't contribute to the length of a swing. Anything done before the front foot plants (which starts hip rotation) is merely a timing mechanism. As long as the bat is connected to the shoulder and the back arm connected to the hitter's side, anything done prior is superfluous. Now, these changes might have helped his timing, but they don't "shorten" the swing. Also, neither of those things add extra power. Power comes almost exclusively from whip generated by the hip rotation continuing while back to front movement of the hands stops. The head movement piece [later in the column] is very good. When you watch a great hitter, there is almost no Y axis movement of a hitters' eyes.
Here is a really nice gif that shows whip ...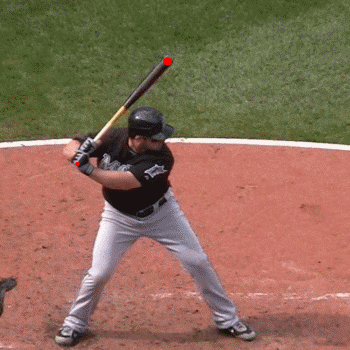 --

...and an explanation of whip from "The Physics of Baseball":

"As the swing begins, the batter strides forward transferring his weight from his back leg to a stiff front leg. As the hands accelerate, the force from the reaction of the bat, transmitted through the hands and arms, slows down the body's forward motion and rotation. As the body slows, the hands that had been accelerated to approximately 15 MPH, also slow to a near stop. The body's kinetic energy is then transferred to the bat as forces uncock the wrist. During this time (as the hands slow and the wrists uncock) the kinetic energy that was stored in the body is transferred to the bat. This kinetic energy transfer accelerates the bat head from about 40 to 70+ MPH."

--

I enjoy getting challenged on things because it advances the conversation. Joe pays very close attention and knows his stuff. As an added bonus, he didn't personally attack me and was respectful about the challenge.

This was a great addition to the discussion. Thanks, Joe.

Readers, if you're interested in this stuff, you may find it worth looking into "The Physics of Baseball," by Robert K. Adair. I have a copy sitting on my bookshelf, and may have to get that out as my next read.

--

3. We've seen teams employ an aggressive infield shift against Kubel this season. Often times there's one infielder to the left of second base, playing about where the shortstop would play. It might seem like Kubel should easily be able to drop singles - or even bunt hits - down the third-base line with regularity. Some have even suggested he should square around for bunts, provided the other team is willing to "give" it to him.

--

4. Still, I don't expect Kubel will bunt for any base hits down that line this season, because it's not as "given" as you might think. I interviewed a coach on Baltimore's staff last season who was responsible for infield defense. The Orioles are one of the more shift-friendly teams in the Majors. When I asked about the concern for bunting or directional hitting, he said if it was easy to beat a shift, hitters would do it all the time. Then, teams would have to readjust their defensive positioning. I agree with his point and I think Kubel will continue to try to pull the ball over the shift and through the shift on the right side of the infield.

Bunting requires a specific skill set, especially to do so with accuracy down a base line. Furthermore, Kubel is not fast so he'd have to push it past the pitcher to reach base.

--

5. Pedro Florimon took some calculated gambles in the fourth inning. With two outs, he bunted to the second baseman and reached on an infield single when pitcher Bruce Chen couldn't field the ball. It was a well-placed bunt and Florimon's speed turned it into a base hit. I think he could try that more often, because the alternative is having a career .213/.274/.316 hitter try to reach base and, ideally, try to get in scoring position.

After reaching safely, with Brian Dozier at the plate, Florimon gambled again and took off for second upon seeing the first movement from the pitcher, Chen. The lefty stepped and threw over to first and they had Florimon nailed, but the relay throw to second didn't get there in time. That put a runner in scoring position for Dozier with two outs and two strikes.

It was a good time for the gamble, because if Florimon was thrown out, Dozier (a career .238/.301/.390 hitter) would lead off the next inning with a fresh count. Dozier, like virtually all hitters, is a worse hitter in 0-2 counts. His career batting line in those situations is .183/.189/.221.

10201